JAW CRUSHER
Jaw Crushers are used for primary crushing of even hardest rock. Our Jaw Crushers are crushing without rubbing Minimum dust Oil lubrication, devise having Oil/Grease lubrication system. The company crushers are designed for long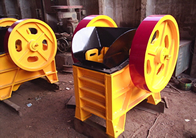 life service with minimum maintenance for hard, tough, abrasive material and overload high capacity. The company all products are also well suited to high efficiency, large capacity size operation.
Features
Based on principle of crushing without rubbing Minimum dust Oil lubrication, Law wear parts Gap adjustment and overload protection High capacity, High operational eliability Long service and life time Easy replacement of wear and spare part Wide range of application.
Capacity up to 450 mm
Feeding size up to 1260 mm aprox
Final grain size <20 mm depending on feed and material size
Reduction ratio 1:8
Application
Black trap ,Basalt
Granite ,River gravel
Bauxite, Hard Rock
Lime Stone,Coal
Iron ore, Maganize ore
SABOO ALSO OFFERS :
IMPACT CRUSHER
CONE CRUSHER
Vibrating Screens
Vibrating Screen one of the unique product or equipment manufactured by Saboo is used for separating the stuff. Vibrating Screen is compiled of mainframe, eccentric bock, screen web, rub spring, electric motor, coupler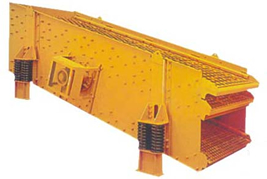 and some more. We have always kept in our minds the choice, preferences and the tastes of our all clients. We will offer you suitable type according to your requirements.
Saboo offers you a wide range of quality screens. But that is not all. Many of our sales people have a long experience with numerous types of screens and are well qualified to help you select the right equipment for your plant. Saboo has supplied customers with crushing & screening equipment for over half a century. Whether you need a stand-alone screen or a complete process solution. Saboo can provide you with equipment that is easy to install and fully functioning from day one.
Features
Simple and dependable Eccentric type system.
High screening capacity.
High durability.
No transmission of screen panels.
Ready changing of screen plates.
Rigid and vibrating resistance screen body.
Optional:
Washing Arrangement & Dust Hood
Different Type of Screen Cloth as per Requirement
In any screening application, a key element to achieving the optimum balance between screening efficiency and low operating costs is the selection of proper screening media. Saboo have created versatile deck designs that fit with almost any media, giving you the full array of options. Experienced application specialists are available to assist you in selecting the optimum choice.
MATERIAL HANDLING EQUIPMENTS
Saboo manufactures a wide range of material handling equipments :-
Belt Conveyors
Belt conveyors are the most commonly used bulk handling conveyors in history due to their reliability, versatility, and range of capacities. Materials from fine powders to large, lumpy stones can be handled on a belt conveyor, and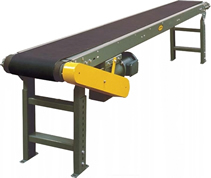 these conveyor belts are used in a wide variety of material transport applications such as manufacturing, and heavy industry.
Belt construction and materials are often application-specific. Belt materials and configurations vary for specific uses such as: roofing shingle conveying, quarrey gravel transport, and a very wide variety of others. Commercial applications include:
Construction - heavy building materials
Food and beverage processing
Forestry - logging, sawmill, paper pulp, etc.
Mining and quarrying
Factory production line
We offer different styles, designs and options of belt conveyor systems and the accessories that accompany them. We will design and manufacture complete systems using either standard or special parts, depending on the customer's exact needs.
Our experience in handling products such as sand, gravel, grain, coffee, minerals, etc. will ensure a properly-sized conveyor for handling any bulk material. We specialize in heavy-duty construction as a standard to reduce maintenance and extend the life of all equipment.
Screw Conveyor
Screw conveyor technology is the leading conveyor technology for the widest range of material particle, bulk density and flow properties.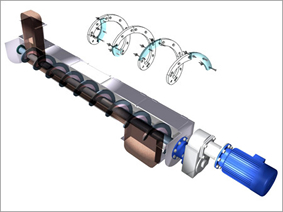 Dust-free in operation :
The screw conveyor is completely sealed operation air isn't used as a conveying medium, there's no risk of dust contamination or humidity from the atmosphere, In addition, the presence of dust can cause not only airborne contamination of other products, but can also pose a threat to the working environment.

Gentle handling of product :
The rotating screw , being centralised within the conveying tube, gently moves the material without degrading it. Its unique action also eliminates the risk of mixed product separation.

Screw conveyor spiral selection :
Standard Pitch, Single Flight


Conveyor screws with pitch equal to screw diameter are considered standard. They are suitable for a wide range of materials in most conventional applications.

Short Pitch, Single Flight


Flight pitch is reduced to 2/3 diameter. Recommended for inclined or vertical applications. Used in screw feeders. Shorter pitch retards flushing of materials which fluidize.

Applications… versatility across the widest range of industries.
Food
Pharmaceuticals
Plastics/rubber
Chemicals
Cement
Water treatment
Minerals/ceramics
Bucket Elevators
Used to elevate bulk materials vertically
Designed to handle a wide variety of bulk materials – from sluggish to free-flowing
Many different bucket and casing sizes available for capacities up to 15,000 cubic feet per hour
Inlet section can be control fed or flood loaded with bulk materials
Belt and chain type elevators are available to meet specific customer requirements
Saboo designs and manufactures Bucket Elevators to meet the needs of many industries, such as Chemical, Minerals Processing, Food, Wood Products and Wastewater Treatment.
Saboo Bucket Elevators are custom designed for your application. Bulk material characteristics, capacity and overall height are considered when designing Bucket Elevators.
Saboo Bucket Elevators are manufactured to rigid quality standards.
Available Features / Options for Bucket Elevators
Custom Engineered for Your Specific Application
Wide Range of Construction Materials – Carbon Steel, Stainless Steel and Abrasion-Resistant Alloys
Bucket Material and Style Chosen Based on Material Characteristics – Plastic or Metal Buckets
Completely Enclosed for Dust-Tight Operation
Available Configurations for Bucket Elevators
Centrifugal Type Bucket Elevator
Continuous Type Bucket Elevator
Cement-Duty Bucket Elevator
Mill-Duty Bucket Elevator