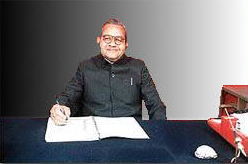 Mr. D.P. Saboo is the founder chairman of Saboo Group of Industries and pioneer of manufacturing Emery Stones in India. With over 51 years of experience in Agro and Mineral based Industries, he has several technological inventions to his credit including the revolutionary "SABOO-VSK" Technology for manufacturing cement in a small scale sector plant. His fertile and imaginative mind, determination, grid sincerity and hard work helped him to become a first generation Entrepreneur.
Outstanding Contribution :
Industrial :
Ex-Director of State Bank of Bikaner & Jaipur (SBBJ)
Ex-Member of National Advisory Committee for Small Industrial Development Bank of India (SIDBI)
Ex-Advisor to Council for Application & Extension of Technology to Rural India (CAETRI)
Ex-Advisor Rajasthan Consultancy Organization Limited (RAJCON)
Ex-Member Industrial Advisory Council of Rajasthan
Ex-Member Mining Advisory Committee of Rajasthan
Ex-Member Bureau of Indian Standards (BIS)
(Agricultural Produce Milling Machinery Sectional Committee FADC 39.)

Social :
MJF Lion D.P. Saboo is actively participating in Lions Club international movement. He is Founder President of Lions Club Jodhana, Jodhpur.
Personally looking after several Cow Shelter Centers.
Running Charitable Acupressure Centers in Jodhpur.
Charitable Trusts mooted by him are working for the benefit of down trodden people and Socio-religious activities .
Awards & Rewards :
National Award - From President of India
(For outstanding Entrepreneurship)
Tambra Patra - from Vice President of India
(For Application and Extension of Technology to Rural India )
Haathi Siropao - from His highness Jodhpur
(For his special contribution to industrial development )